Kahana, Maui
Find peace and serenity on the Valley Isle
CyberSale - Rentals up to 30% off
Royal Kahana Maui by OUTRIGGER
Located between the resort areas of Kaanapali Beach and Kapalua Bay on Maui, the Royal Kahana Maui by OUTRIGGER offers spectacular ocean views, with the islands of Molokai and Lanai in the distance. Guests may enjoy the resort's oceanfront pool, barbecue area, and fitness center.
Find your perfect stay
Discover the perfect fit for your vacation or repeat your stay in a favorite unit each time you're in paradise.
Explore Maui
Open attractions on Maui
Discover the wonders of Maui and what makes it a truly unique place. Here are just some of the hundreds of local small businesses that are looking forward to welcoming you to their island home.
Flavors of Maui
Open restaurants on Maui
Taste the flavors of Maui and discover what makes the island-inspired cuisine some of the best in the world. Here are just some of the hundreds of local restaurants that are open for business.
FOOD & DRINK
Nearby dining
There are several popular restaurants and quick-service options nearby in the Kahana neighborhood.
Earn the revenue you deserve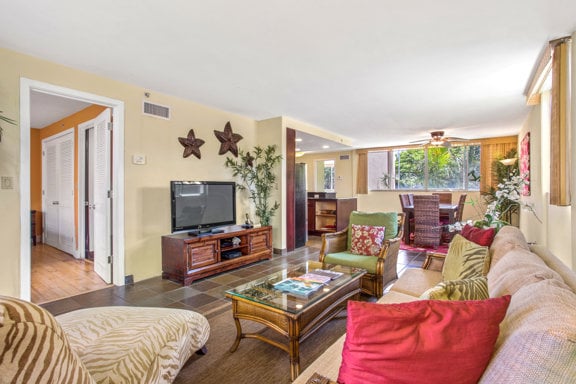 Vacation rental management
Experts in hospitality
Hawaii Vacation Condos by OUTRIGGER® offers the most comprehensive full-service rental management program to manage, market and maintain your vacation condo. As an owner or investor, you can rest easy knowing that you have the support of a global hospitality company, consistently marketing your investment to maximize your return.